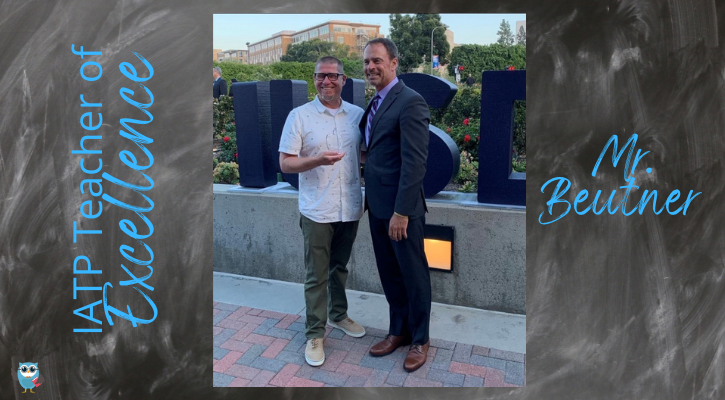 On April 26, 2022, at UCI Barclay Theater, Education Specialist Shaun Beutner was named the 2021-2022 Teacher of Excellence (TOE) for the Irvine Adult Transition Program (IATP). 
"It is the most humbling experience that I've been a part of and the biggest honor by far," Beutner said. "I am extremely grateful for several mentors, teacher colleagues, and administrators who have influenced me along the way. I certainly would not be here without the staff's support, help, and ideas. Ultimately, as an educator, the job is all about being creative and making learning better for all of our students. To get to this caliber of learning and excellence, knowing that I have impacted many peers, students, and parents in this way, is beyond more than I can be thankful for".
Mr. Beutner started his teaching career in 2006 at Rowland Unified as a history teacher. He was inspired by his students who had an IEP to go back to school to obtain his Special Education credential, which led him to move to Iowa teaching mod-severe students. In 2017, Mr. Beutner had the itch to return to sunny southern California roots, where he has been at IATP since!
Congrats, Mr. Beutner!